Overview
Title: Blown Away: Reloading the opportunities for the ILS market after the hurricanes
Time: On Demand
Duration: 1 hour
View On Demand
Summary
The market in insurance-linked securities has bounced back in the wake of last year's hurricane season, with sponsors old and new coming to market and investors keen to re-invest. Meanwhile, London is busy finding its place as the world's newest ILS centre.
In this panel session we will discuss:
What the market's performance since HIM says about its ability to move past large losses


How London is faring as the world's newest ILS hub


What room there is for innovation, and what new perils we are likely to see transferred into the capital markets in 2018 and 2019


What impact the increasing sophistication of ILS investors will have in the long term


Whether rising interest rates will cause capital markets investors to leave the ILS space


What another very active hurricane season might do to investors' appetite for re/insurance risk
Speaker


Katherine Coates
Partner
Clifford Chance
Katherine is a partner in the London Corporate practice of Clifford Chance and global head of insurance for the firm. She specializes in all aspects of corporate and commercial work in the insurance sector, including mergers and acquisitions, joint ventures and regulatory and product development advice for life and non-life insurers, asset managers and other financial institutions. Katherine is rated a 'star individual' in Chambers UK and is listed in Chambers 100 in relation to her work in the insurance sector. Katherine advised the London Market Group's insurance-linked securities (ILS) taskforce on recent UK ILS regulations and advised Neon on the establishment of the first PCC risk transformation vehicle under the new regulations. She also advised Scor on its recent cat bond transaction covering certain hurricane and windstorm risk in US and Europe and earthquake risk in US and Canada. This was the first cat bond issued by an English ISPV under the new UK ILS regulations. She has also advised extensively on structured reinsurance transactions in both life and pensions and non-life sectors and on regulatory capital mandates for insurers.

Jean-Louis Monnier
Global Co-Head of ILS
Swiss Re
Jean-Louis Monnier is global co-head of ILS at Swiss Re, with overall responsibility for the structuring of insurance-linked securities. He additionally heads Swiss Re's efforts in originating P&C structured reinsurance solutions for the UK and Africa. Jean-Louis joined Swiss Re Capital Markets in 2002, initially developing asset and liability management solutions for life insurance companies before specialising in the structuring and placement of insurance risks into the capital markets. Under his guidance, Swiss Re has remained a leading innovator and arranger of ILS with insurance, public and corporate sponsors. Jean-Louis has 25 years of experience in providing structured assets and risk transfer solutions to European financial institutions. Prior to joining Swiss Re, he worked in the derivatives solutions groups of Gen Re Securities, CIBC World Markets and Société Générale. He is a graduate from ESSEC business school in France.

Des Potter
Head of GC Securities
Guy Carpenter
Des joined Guy Carpenter in 2011 as managing director in its boutique investment banking division, GC Securities. He was appointed chief executive of MMC Securities (Europe) in 2013. His responsibilities cover all regulated investment activities with Guy Carpenter's international and global specialty clients, including a focus on risks transferred to the insurance-linked securities market. Des has been a member of the London Market Group's ILS task force since its inception. He has extensive knowledge and over 17 years' experience in securities issued by the non-life re/insurance market having previously worked at Aon Securities, Benfield Advisory and Barclays Bank. During his time at Barclays, Des had senior leadership roles in risk management, strategy, debt capital markets and large corporate banking. Des is a member of the Securities Institute and an associate of the Chartered Institute of Bankers.

Malcolm Newman
Managing Director, EMEA Hub
Scor
Malcolm has been with Scor for the past 15 years and is currently the managing director of Scor's EMEA hub and the chairman of the International Underwriting Association. Malcolm is a chartered accountant by training, having started his career with PwC, where he qualified. He then moved into finance roles in the London Market, initially in reinsurance with CNA Re before moving to the large corporate risk business of Winterthur, a Swiss company purchased by XL in 2001. Joining Scor led to his career moving towards general management roles and a wider market involvement. Malcolm is a board member of the London Market Group and heads up the workstream for creating a better environment for innovation. This work included chairing a task force where government and industry worked together to enable ILS business to be conducted in the UK. Scor have become the first issuer of a cat bond using the new UK legislation.

Rob Procter
Founder
Securis
For 13 years, Rob has been involved with Securis – as co-founder, partner, chief executive officer, chief investment officer, portfolio manager and board member of various Securis entities. In his current role of chief investment officer, he carries responsibility for portfolio construction and management as well as playing an active role in all aspects of investor communications. He chairs the firm's investment committee and sits on the management committee. Prior to co-founding Securis in April 2005, Rob was a managing director and head of the European insurance research team within Morgan Stanley's equity research department. He was responsible for developing and enhancing Morgan Stanley's coverage of the insurance industry, a role he carried out for 8 years. Before this, Rob worked in insurance research roles at Lehman Brothers and Robert Fleming (subsequently JP Morgan Chase). He holds a first-class honours degree in industrial economics with insurance and accounting from Nottingham University and qualified as a fellow of the Institute of Actuaries in 1992.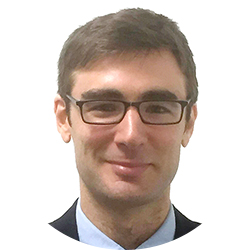 Lorenzo Spoerry - Moderator
Deputy Editor
Insurance Day
Lorenzo joined Insurance Day in August 2017 from S&P Global Market Intelligence, where he led the coverage of European, Middle Eastern and African insurance and reinsurance. Prior to that he held a variety of roles within financial journalism.